Rex Palmer
Camera operator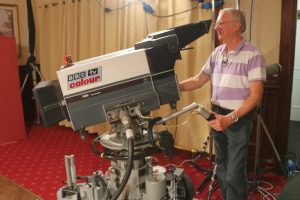 Rex Palmer joined the BBC as a trainee camera operator in October 1963. During his traineeship, he worked as an assistant on the first episode of Doctor Who, shot in 1963 at Lime Grove Studios. Using black and white CPS Emitron cameras with turret lenses, filming these early programs was a cumbersome and laborious task, and, as a young trainee, much of Rex's early work included keeping the heavy cables clear as the cameras moved around the set.
After several years working on a range of light entertainment, drama, and current affairs programmes within the confines of BBC studios, in 1980, Rex moved to the 'open air' of outside broadcasts.
As was typical at this time, the majority of this work was centered around sport. Wimbledon and The Open golf were regular fixtures but there was also programs such as Songs of Praise, concert coverage, and events shot all over the UK.
Rex became a camera supervisor in 1994 and remained working on outside broadcasts until leaving the BBC in 1995 to pursue a freelance career. Since then, the bulk of Rex's work has been covering Formula One racing across the globe.
Rex recalls that, when covering sport with the BBC, you very much "lived by your wits". Camera operators were relied upon for their expert knowledge of both camera operation and program format and, as such, were able to take instructions from the director, via headphones, with minimal prior discussion.
Rex explained: "[At the Wimbledon tennis championships] the standard when I started was to have four cameras around the court. You'd have the high wide shot, which was the overall picture of the court, then you'd have a close up over the servers shoulder, and two side cameras looking at the players at each end. So you had to understand what each of those cameras did and the director would expect you to know what to do at any given time."
Rex's Palmer's credits include:
Doctor Who
Blue Peter
Z Cars
Top of the Pops
Monty Python