Discover television history through objects and artefacts
Throughout the ADAPT project, participants have generously shared artefacts and mementos from their careers in television production.
In this section of the site, you can view scans of original documents shared with the project. These objects – which include original job descriptions and staff contracts – tell rich stories about the history of television production.
Television Producers' Assistants: Job Description

This remarkable document gives a detailed insight into the varied job of a television production assistant during the 1960s and 1970s.
Dating from 1973, the 10,000 word job description covers every facet of a PA's work from the beginning of a programme's production right through to its transmission.
Outside broadcast videotape editor's timesheet, 1994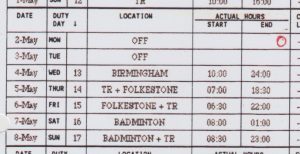 This timesheet, completed by outside broadcast videotape editor Ian Rutter in April and May 1994, gives a unique insight into the working patterns of outside broadcast television production during that period.
Ian's feet scarcely touched the ground during the busy month between 18 Apr and 15 May 1994. He joined outside broadcast crews on assignments in Sheffield, London, Ascot, Hartlepool, Birmingham, Folkstone, Badminton, Lancaster, Twickenham, and Glamorgan. Some jobs were sport, some were entertainment.
One Man and His Dog: Camera Script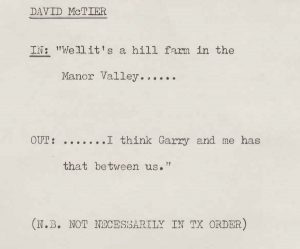 This camera script, prepared for the recording of the popular BBC television series One Man and His Dog in September 1976, shows the intricate planning required for outside broadcast television production.
One Man and His Dog was recorded and assembled using the portable facilities of an outside broadcast truck (known in the BBC as a 'scanner'). The programme was not broadcast until January 1977.