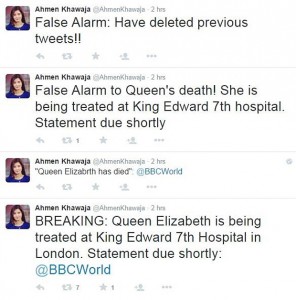 In 2011, the BBC's social media guidance was simply "don't do anything stupid", equally Channel 4 adopt an approach of 'if you wouldn't say it on air, don't post it online' (Broadcast, 23/02/12). Yet as the recent 'Queen has died' (June, 2015) Twitter blunder by BBC journalist Ahment Khawaja reveals, in which the journalist mistook a 'behind the scenes' preparation for the inevitable event, those working in broadcast organisations may find it difficult to follow these apparently 'simple' guidelines that attempt to demarcate the relationship between traditional platforms, such as television, and social media. As a result of her error, Khawaja reportedly faced disciplinary action and the BBC Trust later found the incident represented a serious breach of its social networking policy (Broadcast, 07/07/2015).
The incident raises interesting questions in relation to the launch of the new strand of the ADAPT team's research. Commencing this July 2015, this 'live' project will examine how social media operates as a television production technology, acting as a disruptive innovation coming from outside of the broadcast industry field. The incident demonstrates how the routinisation of social media into production practices still leaves gaps, or breaks, to occur between Corporate decision-making and strategy and individual practice; the pressure felt by production workers to utilize the immediacy of social media and enhance their own 'brand' or visibility within production networks or with audiences; and potentially points to issues of training and the increasingly blurred lines between professional and personal personas – on and off line – in contemporary media production.
In turning innovation to routine use, conflict and incoherence are as much a part of the story as official accounts that promote success stories and coherent managerial strategies. Thus, arguably, is the nature of creative disruptive. In this instance, it is interesting to read Khawaja's 'blunder' in relation to such official rhetoric: on the one hand, Rajiv Nathwani, BBCOne and Two's Social Media Manager, recently described the Corporation's approach to social media as needing to create a "personal space", emphasizing content that was presented in a different way: funny captions, behind-the-scenes and 'off the wall' messages. Equally, however, official guidance seems to suggest the Corporation discourages 'hybrid' Twitter or Facebook spaces – even though these have tended to be the most successful (see Liz Evans' work here). Khawaja's mistake here is to fall between these competing messages.
As this project investigates how social media are adapted to, and adapted, into production routines within contemporary factual television, the relationship between innovation and strategy, coherence and disruption, personal and professional will continue to be explored.
James Bennett is head of the Department of Media Arts at Royal Holloway, University of London.