Vintage television production equipment took centre stage last week as a veteran team from the BBC's Television Film Studios at Ealing were reunited with obsolete film equipment as part of a unique historical re-enactment experiment.
The event took place as part of ADAPT, a European Research Council funded project designed to improve our understanding of the changing ways in which technology has been used to make television since 1960.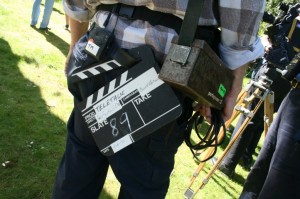 For the retired film crew, it was a first chance in decades to revisit the lights, cameras, and tape recorders they once used every day. Camera operators David Whitson and Brian Tufano were joined by sound recordists Bill Chesneau and John Hooper, production assistant Alex Branson, electricians Alan Muhley and Tommy Moran, and director Ray Sutcliffe.
Vintage equipment collector John Adderley, who also fulfilled the role of camera assistant, provided a vast range of equipment from his personal collection, including two Arriflex St cameras (one with an external blimp) and an Éclair NPR camera.
The range of sound equipment available included a wind-up EMI L2 and two Nagra tape recorders. Lights were, as far as possible given current safety regulations, those which would have been used at the time.
The veteran crew demonstrated how the equipment worked, rediscovering it as they went. They explained and demonstrated their roles and how they used to work together. They shot a number of interior and exterior sequences onto film.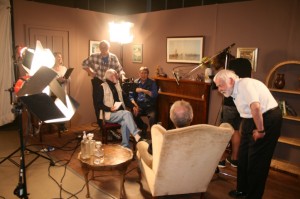 The experiment provided ample evidence for the value of carrying out such hands-on research in the history of technology. Handling the vintage equipment reminded participants of working patterns and routines which may not have been recalled in a more traditional "oral history" interview. Using the old equipment brought to light forgotten advantages and limitations of different technologies.
The entire exercise was recorded on multiple Sony PMW-100 cameras. The participants were equipped with wireless microphones which enabled them to freely discuss their memories and actions with ADAPT researchers and each other.
Over the three days, the simulation generated almost 1TB of sound and image data. This footage will now be edited into a number of packages explaining aspects of 16mm filming, to join the material already available from the pilot shoot about 16mm editing.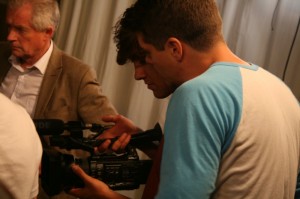 The shoot was directed by ADAPT team member Amanda Murphy, with assistance from Royal Holloway staff including media arts technician Sri Southall and studio manager John Walsh. Southall directed camera operators Joe Burns and Zak Derler, while Walsh – assisted by Summer Walker – oversaw the event's complex sound recording requirements.
Additional assistance was provided by Molly Pearson and Patsy Webb, who – along with ADAPT PhD students Rowan Aust and Tim Heath – ensured that participants were taken care of and digital files were appropriately transferred to secure storage.
ADAPT is led by Prof. John Ellis and funded by the European Research Council and will run until 2018. Future simulations will trace the other major ways of generating television programmes, from outside broadcast to video tape editing.